Donations and Sponsors are essential for our success and survival.

The PURRfect KITTY is a 501(c)3 non-profit organization, and your generous donation will benefit
the lives of many less fortunate felines.

This venture is a labor of love for the kitties that count on us to help them have a better way of life.

Click here to make a secure online monetary donation: YES, I want to donate!








The PURRfect KITTY is run by all Volunteers and we have minimal funding.
Every donation helps to keep us going. Thank you for your support!

If you'd like to donate supplies to help the kitties, please see our wish list at:
Wish-List & Additional Information Thank you!!




My name is "Angel" and I'm asking everyone to please become a "recurring donor"
by donating just $10 a month to help all the kitties at The PURRfect KITTY.
Funds are always low and we really need your help to keep the Shelter going!
It takes just a few clicks to become a recurring donor!!
When making your first donation, please check the box that says
"Make this a recurring donation" and it's done! No Hassle! No Paperwork!
Your monthly donation will begin on the 1st day of the month following your initial donation.
Click Here: YES, I want to be a recurring donor!



I used to live outside with no human contact & I struggled to survive in
an Industrial Area. Thanks to The PURRfect KITTY, I have a loving, warm,
permanent home at the Shelter. I love living at The PURRfect KITTY,
they gave me a better life!! Your support helps ensure my home forever!
Please ask your friends & family to donate too!
Thank you so much!

Below are photos of me when I was first saved by The PURRfect KITTY in April'07.
Click on photos for a close-up.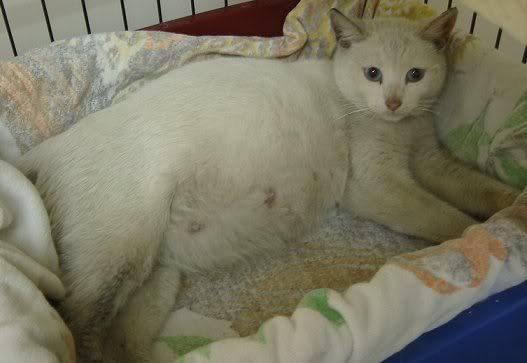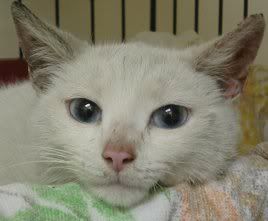 Yes, I was very dirty & very pregnant. The PURRfect KITTY rescued me just
2 days before I was due to give birth. Thanks to The PURRfect KITTY,
my babies were not born outside & they now have wonderful homes.